On Bee's Knees  
Oh, I'm a humble bumble bee
A yellow-banded stumble bee
Our numbers tumble down so low
That crops will crumble as we go
My cousins fill up comb and hive  
These busy buzzers work and strive
And honey is not all bees do
We pollinate the fruit trees too
But when you spray your pesticides
You kill the skill a bee provides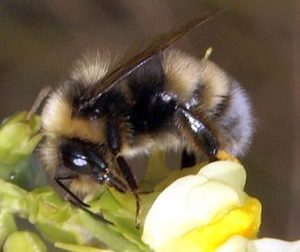 I'm begging you on bended knee
Don't let this be the end of me
Save the bees! Please.  
– by Ruth Gilmore Ingulsrud
The yellow banded bumble bee is in trouble. It used to be common in the United States and southern Canada, but now it is hard to find these busy little insects. These bees pollinate important plants like potatoes, tomatoes, alfalfa, raspberries, blueberries, cranberries and other edible crops. Because bumble bees can fly in lower temperatures than other types of bees, they are important pollinators in northern, cooler climates.
The wild lands that support the bees have been disappearing. Herbicides and pesticides (sprays that kill weeds and insects)  have been killing the bees by making them weak and susceptible to disease. People can help to reverse the disappearance of bee populations by helping to create gardens and open plots of land that provide flowers and habitat to please the bees. We can stop using harmful pesticides and petition governments and stores to ban pesticides.
Bees need us and we need bees. Let's help each other…. Please!